Tente, spécialiste européen en solutions de mobilité, développe des systèmes de roulement pour l'industrie, l'hôtellerie/restauration, ainsi que pour le médical. Ils seront présents à la SITL du 28 au 30 mars prochains, afin d'introduire auprès des professionnels du secteur leurs dernières innovations, dont le E-Drive.
Conçue comme une roue motorisée autonome aisément adaptable à destination de l'industrie, de l'hôtellerie/restauration ainsi que du médical, le E-Drive s'adapte à la plupart des types de chariots ou dispositifs à roulette, allant du chariot de picking à la base roulante ou la desserte.
Entièrement escamotable, le E-Drive ne touche pas le sol afin que les chariots conservent toutes leurs fonctionnalités initiales et puissent être déplacés dans toutes les directions. Il suffira simplement d'activer le "mode on" pour placer la roue motorisée en position basse et ainsi profiter de ses fonctionnalités. Réduire les risques de TMS, améliorer la QVCT et enfin booster la productivité de l'activité, tels sont les objectifs du E-Drive.
Le E-Drive Optima, version améliorée du dispositif de base, inclut un dispositif d'entraînement, une batterie supplémentaire, ainsi qu'un jeu de poignées afin de se déplacer plus facilement dans les zones étroites ou encombrées, pour une vitesse modulable oscillant entre 1 et 6 km/h en fonction des besoins, ainsi qu'une aide au freinage pour une sécurité maximum.
Stand: C045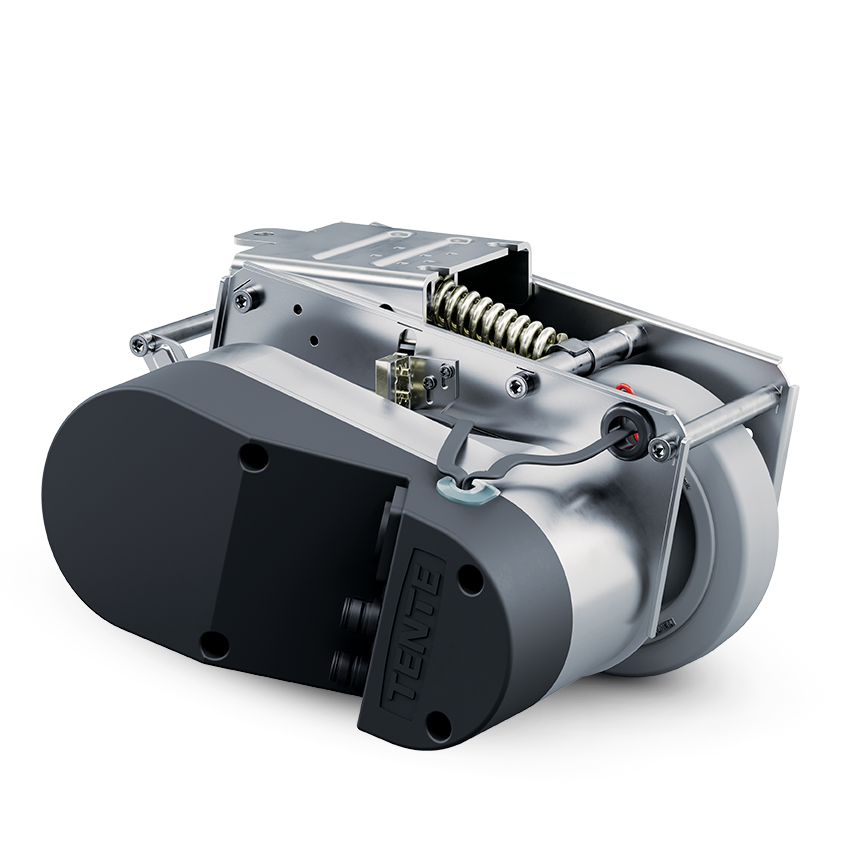 ---
Tente at SITL, like clockwork with the E-Drive
Tente, a European specialist in mobility solutions, develops rolling systems for industry as well as the hotel and restaurant sector and the medical sector. The company will be at SITL from 28 to 30 March to introduce its latest innovations to industry professionals including the brand new E-Drive.

Designed as a stand-alone motorised wheel, the E-Drive can be easily adapted for use in the industrial, hotel and restaurant and medical sectors. It can also be used with most types of trolleys or wheeled devices, ranging from picking trolleys to rolling bases or serving units.

Fully retractable, the E-Drive does not touch the floor so that trolleys retain their full functionality and can be moved in any direction. Simply activate the "on mode" to place the motorised wheel in the lowered position and take advantage of its functionality. Reducing the risk of RSI, improving QWL and boosting business productivity are the objectives of the product.

The E-Drive Optima, an improved version of the basic device, features a drive unit, an additional battery, and a set of handles to move more easily in narrow or congested areas, with a variable speed of between 1 and 6 km/h as required, as well as braking assistance for maximum safety.
Stand: C045