Lors de la conférence inaugurale, tous les acteurs présents ont rappelé l'importance de la décarbonation et la nécessité de se transformer rapidement
Pour son inauguration orchestrée par sa directrice Laurence Gaborieau, la 40e édition de la SITL a mis les petits plats dans les grands, avec une conférence d'ouverture qui a réuni un parterre prestigieux de personnalités issues des univers de la politique et de la logistique, le tout devant une assemblée très attentive, composée de parlementaires, de présidents de fédérations ou encore de chefs d'entreprises. Clément Beaune, ministre délégué chargé des Transports, Roland Lescure, ministre délégué chargé de l'Industrie, Anne-Marie Idrac, présidente de France Logistique, Eric Hemar, président d'ID Logistics, Olivier Storch, PDG adjoint de Ceva Logistics, François Gemenne, politologue et membre du GIEC, ainsi que Philippe Barbier, président de la CGF, se sont succédé sur la Grande scène. Au centre de leurs échanges riches et constructifs, l'avenir et l'évolution du transport et de la logistique, deux secteurs confrontés à un nécessaire besoin de se réinventer dans un monde en pleine mutation où la décarbonation se trouve au cœur de toutes les préoccupations.
"L'objectif européen de décarbonation nous oblige à travailler ensemble", a insisté Laurence Gaborieau avant de souligner : "Le contexte est compliqué, mais il y a de quoi s'enthousiasmer pour relever les défis d'aujourd'hui et de demain". "Nous sommes à l'aube d'une transformation majeure, avec la question de la décarbonation de l'économie et du secteur, a embrayé François Gemenne. La logistique, une source importante d'émissions de CO2, a un rôle majeur à jouer, avec la multimodalité à développer. Le secteur doit se développer et s'adapter." "Je crois que la logistique est un bien nécessaire", a précisé Olivier Storch dont la société, Ceva Logistics, va assurer la logistique des prochains Jeux olympiques et paralympiques de Paris.
Clément Beaune et Roland Lescure ont profité de leur présence sur le salon pour faire deux annonces. Les ministres ont dévoilé l'identité des 8 lauréats de l'appel à projets "Logistique 4.0" dont l'objectif se veut double : améliorer la compétitivité de la chaîne logistique et maîtriser son impact environnemental. L'investissement total représente 32 millions d'euros dont près de 12 millions de soutien public dans le cadre de France 2030. Les lauréats participeront à développer de nouvelles actions de décarbonation de la livraison du dernier kilomètre dans les centres villes, à construire de nouveaux outils d'aides à la décision pour décarboner la logistique, et à développer des plateformes de digitalisation des flux et démarches de transport de marchandises.
La seconde annonce ministérielle a trait à un nouvel appel à projets de 60 millions pour l'électrification des poids lourds (55 pour les camions, 5 pour les autocars). "On a besoin d'accélérer les transformations et de les accompagner. Dans les 40 prochaines années, les changements vont s'accélérer sous l'effet de l'exigence économique et de la décarbonation", a déclaré Clément Beaune qui, avec Roland Lescure, a reçu des mains de Philippe Barbier un rapport sur la logistique urbaine durable.
---
Les 8 lauréats de l'appel à projets "Logistique 4.0"
Autonomous Pack. Acteurs : Goodflow, IMT, INRIA, IRCICA
Califrais. Acteurs : Califrais et Sorbonne Université.
CO2CKPIT. Acteur : Wakeo.
Jumel. Acteur : Daher Aerospace.
Login. Acteur : Ouest France.
Mesh. Acteur : In Continu et Services.
Moove on Bike. Acteur : BeWheel.
Nabu. Acteur : Nabu.
---
François Gemenne
"Les choses vont dans le bon sens mais pas assez vite. Quand je regarde les transformations dans la société, je vois surtout les entreprises qui se mobilisent et réalisent des investissements. Mais si on veut que ces investissements fonctionnent vraiment, ils doivent être suivis d'investissements publics massifs. On ne peut pas mettre toute la charge de la décarbonation sur les seules épaules des entreprises. Pour décupler la puissance des investissements, il faut que l'investissement privé aille de pair avec l'investissement public. C'est le moment de faire preuve d'ambition et de ne pas minimiser notre responsabilité face à l'histoire. Il faut accélérer car le changement climatique n'attend pas."
Olivier Storch
"On est dans un engagement de qualité de service vis-à-vis des Jeux olympiques et paralympiques. On discute avec le comité d'organisation sur la meilleure manière d'éviter de produire des émissions de CO2, avec des transports propres, de la multimodalité (on a un entrepôt à Gennevilliers, on espère pouvoir faire de la barge), l'utilisation de véhicules électriques sur le dernier kilomètre, l'utilisation de cyclo-logistique sur les sites. Il y a aussi toute la partie planification et consolidation en amont sur les flux de marchandises. Toutes ces actions vont nous permettre de réduire l'empreinte carbone de la logistique des JO."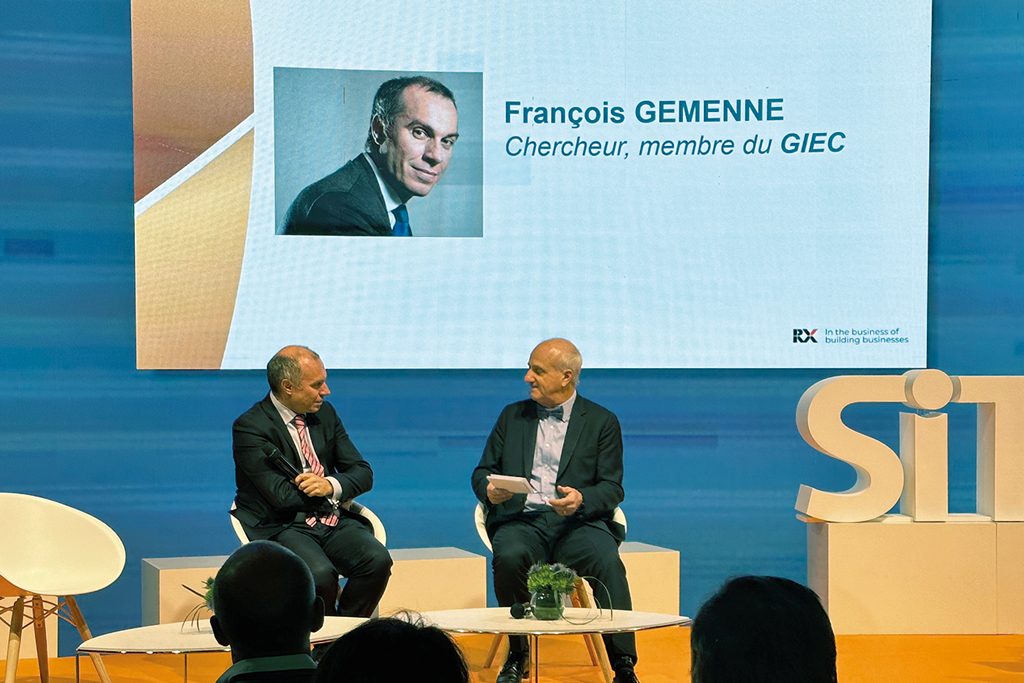 ---

For its 40th anniversary, SITL focuses on the challenges of tomorrow
During the inaugural conference, all players present highlighted the importance of decarbonisation and the need for rapid transformation
For its inauguration orchestrated by Director Laurence Gaborieau, the 40th edition of the SITL has put on a marvellous display with an opening conference bringing together a prestigious audience of personalities from the world of politics and logistics, all before a very attentive assembly composed of members of parliament, federation heads and business leaders. Minister of Transport Clément Beaune, Minister of Industry Roland Lescure, President of France Logistique Anne-Marie Idrac, President of ID Logistics Eric Hemar, Deputy CEO of Ceva Logistics Olivier Storch, political scientist and IPCC member François Gemenne, and CGF President Philippe Barbier all took to the stage. At the centre of their rich and constructive exchanges was the future and evolution of transport and logistics – two sectors faced with the need to reinvent themselves in a rapidly changing world where decarbonisation is at the heart of all concerns.
"The European decarbonisation objective requires us to work together," insisted Laurence Gaborieau. "The context is complicated, but there are plenty of reasons to be enthusiastic about meeting the challenges of today and tomorrow."

Echoing her sentiments, François Gemenne said: "We are at the dawn of a major transformation with the issue of decarbonisation of the economy and the sector. Logistics, a major source of CO2 emissions, has a major role to play, with multimodality to develop. The sector must develop and adapt."

Olivier Storch, whose company Ceva Logistics will be handling logistics for the upcoming Olympic and Paralympic Games in Paris, added: "I believe that logistics is a necessary asset."
Clément Beaune and Roland Lescure took advantage of their presence at the show to make two announcements. The ministers unveiled the identities of the eight winners of the "Logistics 4.0" call for projects, which have a double objective: to improve the competitiveness of the supply chain and control its environmental impact. The total investment represents €32 million including nearly €12 million of public support within the framework of France 2030. The winners will help develop new actions to decarbonise last-mile delivery in city centres, build new decision-making tools to decarbonise logistics, and develop platforms for digitising goods transport flows and processes.

The second ministerial announcement relates to a new call for €60 million in projects for the electrification of heavy-duty vehicles (€55 million for trucks, €5 million for coaches). "We need to accelerate transformations and accompany them. In the next 40 years, changes will accelerate under the effect of economic requirements and decarbonisation," said Clément Beaune, who received a report on sustainable urban logistics from Philippe Barbier along with Roland Lescure.
---
The 8 winners of the "Logistics 4.0" call for projects.
Autonomous Pack. Acteurs : Goodflow, IMT, INRIA, IRCICA
Califrais. Acteurs : Califrais et Sorbonne Université.
CO2CKPIT. Acteur : Wakeo.
Jumel. Acteur : Daher Aerospace.
Login. Acteur : Ouest France.
Mesh. Acteur : In Continu et Services.
Moove on Bike. Acteur : BeWheel.
Nabu. Acteur : Nabu.
---
François Gemenne
"Things are going in the right direction but not fast enough. When I look at the transformations in society, I see above all companies that are mobilising and making investments. But if we want these investments to really work, they must be followed by massive public investments. We cannot put the entire burden of decarbonisation on the shoulders of businesses alone. To increase the power of investment tenfold, private investment must go hand in hand with public investment. It is time to be ambitious and not minimise our responsibility to history. We must accelerate because climate change does not wait."
Olivier Storch
"We're commitmented to quality of service when it comes to the Olympic and Paralympic Games. We are in discussions with the organising committee about the best way to avoid producing CO2 emissions with clean transport, multimodality – we have a warehouse in Gennevilliers which we hope to use – and the best way to reduce our carbon footprint."
Photo: © Thierry FOULON