Automatisation, efficacité énergetique et développement durable, des thèmes clés pour Jungheinrich
Jungheinrich profite de la SITL pour présenter ses nouveautés et ses solutions à un développement durable. Alain Ferrand, Directeur Solutions d'Entreposage, explique.
Que souhaite promouvoir Jungheinrich cette année à la SITL ?
L'automatisation, l'efficacité énergétique et le développement durable sont des thèmes clés pour Jungheinrich. Nous les mettons en avant à travers nos deux nouveaux modèles de chariots au design conçu avec la batterie Lithium-ion qui en améliore les fonctionnalités logistiques. Pour nos solutions automatisées, nous présentons deux robots mobiles : notre nouvel EKS (préparateur de commandes plus compact), et en première mondiale, notre AMR articulé.

Quels sont les défis de l'automatisation pour Jungheinrich ?
Il y a trois défis : le premier est de proposer des solutions à tous nos clients, quelle que soit leur taille ou leur secteur d'activité. L'automatisation ne doit plus être réservée qu'aux très grandes entreprises. Nous proposons des solutions flexibles, pour accompagner la croissance de nos clients : c'est le second défi. Le troisième est de proposer des solutions concernant les petites charges, car c'est une demande forte des clients aujourd'hui. Nous répondons à ces défis avec nos AMR, AGV, miniloads et transtockeurs.

Quelles solutions les fabricants et les distributeurs peuvent-ils adopter pour rendre leurs chaînes d'approvisionnement plus flexibles ?
Rendre les chaînes d'approvisionnement plus flexibles demande d'analyser leur activité et d'automatiser à bon escient, selon la typologie des produits, la classe de rotation, la saisonnalité. C'est le travail de nos équipes.


Pourquoi des événements comme la SITL sont-ils si importants pour des entreprises comme la vôtre ?
Ces dernières années ont démontré que la digitalisation des échanges était indispensable à la continuité d'activité. Mais elles ont aussi mis en évidence l'importance des moments de convivialité dans les échanges professionnels. La SITL est un moment clé d'échanges et l'occasion de présenter nos nouveautés en avant-première. 
STAND M63
---
JUNGHEINRICH: L'AUTOMATISATION, UNE TRANSITION PLUS QU'UNE RUPTURE
Face au défi environnemental, le passage à l'automatisation est-il vraiment bénéfique pour l'environnement ? Alain Ferrand de Jungheinrich estime pour sa part que le passage à l'automatisation ne doit pas être imaginé comme une rupture, mais plutôt comme une transition. "En cherchant des solutions pour lisser les flux, nous parvenons à concevoir des installations mieux dimensionnées avec un meilleur taux d'utilisation, permettant ainsi d'éviter le surdimensionnement, qui constitue une sorte de gaspillage. Et donc, c'est un bénéfice pour l'environnement", explique-t-il.
---
Ne ratez pas l'atelier animé par Jungheinrich demain :
> Green logistics
LOGISTIQUE : COMMENT AMÉLIORER LA PERFORMANCE DE VOTRE ENTREPÔT TOUT EN RÉDUISANT VOTRE IMPACT ENVIRONNEMENTAL AVEC LE LITHIUM-ION
Jonathan Marraud Des Grottes, Lucas Toussaint
Mercredi, 6 Avr. 16:00 – 16:45
Ateliers 2
---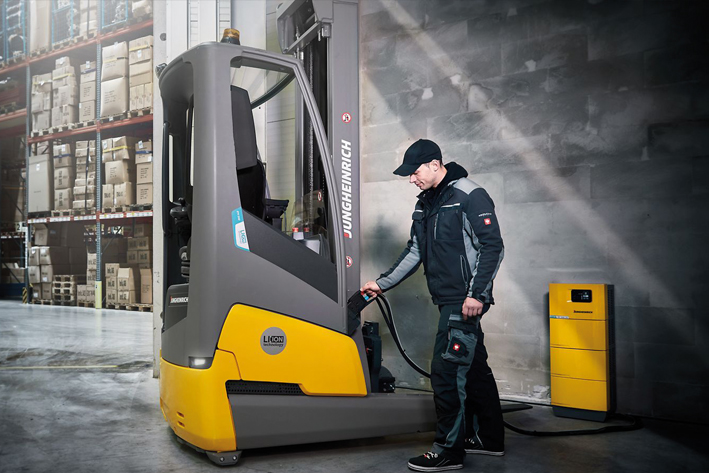 Automation, energy efficiency and sustainabile development are key themes for Jungheinrich
Jungheinrich has seized the opportunity to present their latest products and sustainable development solutions at SITL. Alain Ferrand, Director of Warehouse Solutions, explains.
What is Jungheinrich looking to promote this year at SITL?
Automation, energy efficiency and sustainability are key topics for Jungheinrich. These are highlighted through our two new models of forklift, designed with a lithium-ion battery to improve its logistics functionality. In terms of automated solutions, we are presenting two mobile robots, our new EKS (more compact order picker) and our articulated AMR – a world premiere.

What are the main challenges of automation?
There are three challenges: The first is providing solutions to all our customers no matter their size or industry. Automation should not be reserved only for big companies. We offer flexible solutions which accompany our customers as they continue to grow – that's the second challenge. The third is coming up with solutions for small loads which are in high demand. We are meeting these challenges with our AMR, AGV, miniloads et stackers.

What solutions can manufacturers and distributors adopt to make their supply chains more flexible?
Making supply chains more flexible is about analysing and automating them in the best possible way according to product typology, rotation class and seasonality. This is what our teams are working on.

Why are events like SITL so important to companies such as yours?
The last few years have shown that the digitalisation of trade is essential for business continuity. But they also highlighted the importance of having moments of togetherness in professional settings. SITL is such a key moment of professional exchange and a chance to present our new products in preview.
STAND M63
---
JUNGHEINRICH: AUTOMATION IS A TRANSITION NOT A SPLIT
Is the move towards automation really beneficial for the environment? For Alain Ferrand of Jungheinrich the move to automation should not be viewed as a clean break, but rather as a transition. "By looking for solutions to ease the flow of goods, we are coming up with devices which are more suitably sized and have a higher usage rate. Avoiding oversizing is beneficial for the environment," he explains.
---
Don't miss Jungheinrich's workshop tomorrow:

> Green logistics
Logistics: How to improve warehouse performance while reducing environmental impact with lithium-ion
Jonathan Marraud Des Grottes, Lucas Toussaint
Wednesday, 6 april, 16:00-16:45
Ateliers 2