Categories
« S'inspirer de ce qui se fait de mieux en termes d'innovation »
Global Head of Supply Chain, IT and Repairs, Rimowa (groupe LVMH/LVMH Group), Julien Morel est un participant assidu de la SITL, mais aussi un membre récurrent du jury des Prix de l'Innovation et du Start-up Contest. Il nous explique pourquoi.

Ça fait de nombreuses années que je viens à la SITL. La première raison de ma venue est la suivante : parcourir le salon et aller à la rencontre de solutions innovantes. C'est aussi pour cela que je participe depuis une dizaine d'années aux Prix de l'Innovation. Cela me permet d'être confronté à quelques innovations, déjà filtrées en amont par les organisateurs, et de m'inspirer de ce qui se fait de mieux en termes d'innovations logistiques sur le marché.

Que vous apporte la SITL en termes d'échanges avec vos fournisseurs ?
Soit on est en plein appel d'offres et on a la chance de voir toutes les entreprises en même temps, ce que j'ai fait il y a deux ans sur un appel d'offres concernant la gestion du dernier kilomètre. Soit cela permet de voir physiquement des gens avec lesquels on est déjà en contact et de montrer un peu ce que l'on fait. C'est toujours plus sympa de se rencontrer ; cela permet de nouer un contact et de créer une relation de confiance qui peut être nécessaire pour la suite d'une collaboration.
Quel type de services ou de produits venez-vous chercher ?
Cela dépend vraiment du moment et de l'entreprise. En ce moment, deux choses m'intéressent particulièrement. La première, c'est l'IoT, c'est-à-dire être capable de suivre en temps réel des informations du geotracking mais aussi potentiellement l'humidité et la température. De par mon passé d'ingénieur, ça m'intéresse intellectuellement pour savoir comment ça fonctionne. Ensuite, je suis passionné par la gestion du dernier kilomètre, je vais à la rencontre des entreprises innovantes sur ce secteur-là. J'ajouterai un troisième point qui bouge beaucoup : tous les secteurs qui s'intéressent à la qualité du travail dans les entrepôts et la manière dont on peut améliorer les conditions de vie des collaborateurs en entrepôt. Plein de solutions existent sur le marché pour avoir une meilleure productivité, une meilleure fidélité des collaborateurs et une meilleure attractivité du marché.

Quelles sont les tendances dans votre secteur d'activité ?
La grande tendance que je promeus, c'est omnicanal, soit la manière de faire discuter les canaux les uns avec les autres pour que le consommateur ait l'expérience client la plus exceptionnelle possible. Ça touche plein de secteurs : le monde de la logistique (un entrepôt traditionnel doit s'adapter au e-commerce), le logiciel, le transport, la gestion de stockage. C'est un domaine très vaste, une transformation systémique. Tout ce qui touche à cela m'intéresse.
Photo : Julien Morel, Global Head of Supply Chain, IT and Repairs,
Rimowa (groupe LVMH/LVMH Group)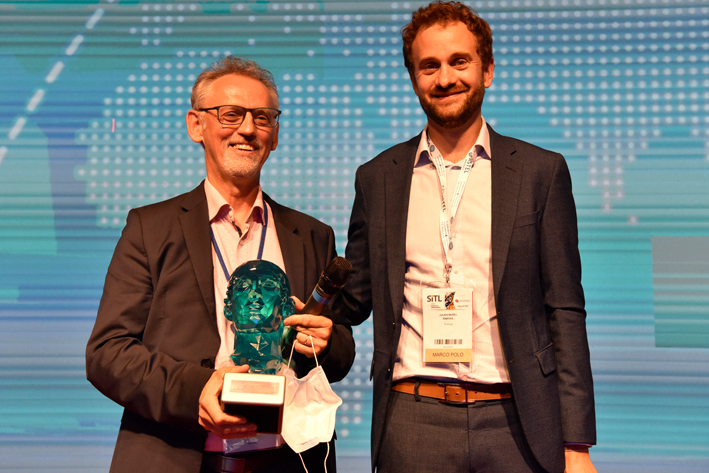 Cérémonie des Prix de l'Innovation
Meilleure Innovation Immobilier & Infrastructures : 
Lauréat PÔLE D'EXCELLENCE RÉGIONAL EURALOGISTIC 

Innovation Awards Ceremony
Best Real Estate & Infrastructures Innovation: 
Winner EURALOGISTIC REGIONAL
POLE OF EXCELLENCE 

"Building on the best in innovation"
Julien Morel, Global Head of Supply Chain, IT and Repairs at Rimowa luggage (LVMH group), is a regular participant in SITL, but also a regular member of the jury of the Innovation Awards and Start-up Contest. He tells us why.

I've been coming to SITL for many years. The first reason for my visit is to go through the show and find innovative solutions. This is also why I have been participating in the Innovation Awards for the past ten years. It allows me to be confronted with some innovations, already filtered upstream by the organisers, and to be inspired by the best in terms of logistic innovations on the market.

What does SITL bring you in terms of exchanges with your suppliers?
We may be in the middle of a call for tenders and we are lucky enough to see all the companies at the same time, which I did two years ago on a call for tenders concerning the management of the last mile. It makes it possible to physically see people with whom we are already in contact and show what we are doing. It is always nicer to meet each other; it makes it possible to establish a contact and create a relationship of trust that may be necessary for the continuation of a collaboration.
What kind of services or products are you looking for?
It really depends on the time and the company. Right now, two things are of particular interest to me. The first is the IoT, that is to say to be able to follow, in real time, geotracking information, but also, potentially, the humidity and the temperature. From my past as an engineer, I'm intellectually interested in how it works. I am passionate about managing the last mile, so I go to meet innovative companies in this sector. I would add a third point that is very active: all the sectors that are involved in the quality of work in warehouses and how we can improve the conditions of employees there. Many solutions exist on the market to have better productivity, employee loyalty and market attractiveness.

Overall, what are the trends in your industry?
The big trend I'm promoting is omnichannel, which is the way to bring the channels together so that the consumer has the most exceptional customer experience possible. It affects many sectors: the world of logistics (a traditional warehouse must adapt to e-commerce), software, transport, and storage management. It's a very broad area, a systemic transformation. I'm interested in anything that relates to that.