Categories
Powerchock, une solution unique et fiable pour sécuriser les quais de chargement
Le système de blocage de roue, inventé par GMR Safety fondé et présidé par Gaétan Jetté, permet à l'entreprise canadienne d'afficher une santé resplendissante
Pouvez-vous présenter votre entreprise ?
GMR Safety est une entreprise canadienne, qui, depuis 2015, est aussi implantée en France. On compte près d'une vingtaine de collaborateurs qui couvrent l'Europe, une centaine à travers le monde. Nous fabriquons des systèmes de blocage de roue pour la sécurisation des quais de chargement dans les entrepôts. Nos clients cibles en Europe sont des sociétés comme DHL, XPO, ID Logistics, Kuehne+Nagel, Ikea, Leroy Merlin ou Boulanger. On est présent dans plusieurs secteurs comme le e-commerce, le secteur pharmaceutique, l'agroalimentaire. Power Chock est une solution unique.

Pourquoi êtes-vous présent à la SITL ?
Ce qui est fantastique dans un salon ciblé comme la SITL, c'est de retrouver à un seul endroit les clients qui travaillent dans toute la France. En deux ou trois jours, on peut rencontrer vingt clients actuels ; en plus, la SITL nous permet de rencontrer des dizaines de clients potentiels que l'on ne connaissait pas. On peut aussi montrer nos solutions et travailler des partenariats.

Que représente le marché européen pour GMR Safety ?
La société a été fondée en 1996. Le business était presque exclusivement tourné vers l'Amérique du Nord. Puis on a décidé de développer le marché européen. Aujourd'hui, ça grandit de façon exponentielle et représente près de la moitié de notre chiffre total.

Dans quelles proportions vos systèmes diminuent-ils les accidents ?
L'idée est de ne pas attendre d'avoir un accident grave avant d'agir. La sécurité se fait de manière préventive. Notre système de blocage de roue est hyper fiable, hyper durable et unique. On se positionne comme le leader mondial, notre solution répond aux besoins des entrepôts logistiques. Le système vit sans être endommagé par le véhicule, ce qui permet aux entreprises de profiter d'un environnement sain pour leur travail. Ça aide même aux embauches.

Comment expliquez-vous la forte croissance de votre entreprise ?
On a identifié les créneaux de marchés où notre système de bloque-roue serait très demandé. Pour la cinquième fois d'affilée, on termine avec une croissance annuelle de 40% en moyenne ; pour 2021, on va afficher à peu près une croissance de 55%. On a une usine de 5000m2, bientôt trop petite, on regarde pour en construire une autre. On a d'excellents collaborateurs et un désir de gagner ensemble. Notre succès repose sur notre écoute et notre désir sincère de faire profiter nos clients des meilleures technologies, puis de faire évoluer nos solutions pour répondre aux besoins changeants.

Quelle place accordez-vous à l'innovation ?
C'est l'une de nos valeurs, tout comme le plaisir et le travail d'équipe. On essaie de se renouveler continuellement, de réinventer les façons de faire et d'être, les façons d'interagir avec nos partenaires. Nos clients participent activement au développement de nos nouveaux produits, on établit des partenariats longue durée avec eux.

STAND E53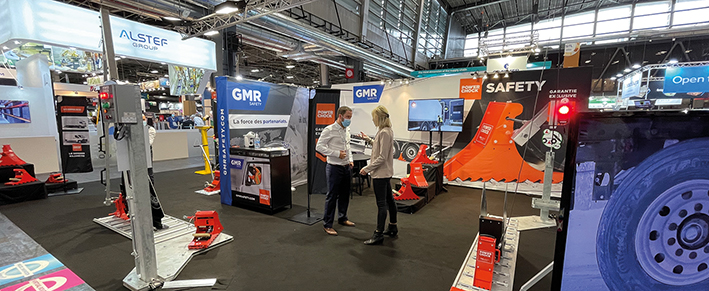 ::::::::::::::::::::::::::::::::::::::::::::::::::::::::::::
Powerchock, a unique and reliable solution for securing loading docks
A wheel locking system invented by GMR Safety allows the Canadian company to display a resplendent health. We asked founder and chairman Gaétan Jetté to tell us more about his company
GMR Safety is a Canadian company, which is also established in France since 2015. There are about 20 employees who cover Europe; about a hundred around the world. We make wheel locking systems for securing loading docks in warehouses. Our target customers in Europe are companies like DHL, XPO, ID Logistics, Kuehne+Nagel, Ikea, Leroy Merlin or Boulanger. We are present in several sectors such as e-commerce, the pharmaceutical sector, and food processing. Power Chock is a unique solution.

Why are you at SITL?
What is fantastic in a targeted show like the SITL is to find, in one place, the customers who work all over France. In two or three days, we can meet with 20 current customers; and SITL allows us to meet dozens of potential customers who we did not know. We can also show our solutions and work on partnerships.

What does the European market represent for GMR Safety?
The company was founded in 1996. Business was almost exclusively focused on North America. Then we decided to develop the European market. Today, it is growing exponentially and represents nearly half of our total turnover.

To what extent do your systems reduce accidents?
The idea is not to wait for a serious accident before taking action. Safety is done in a preventative manner. Our wheel locking system is extremely reliable, durable, and is inimitable. We position ourselves as the world leader, our solution meets the needs of logistics warehouses. The system lives without being damaged by the vehicle, which allows companies to enjoy a healthy environment for their work. It even helps with hiring.

How do you explain the strong growth of your company?
We have identified specific markets where our wheel restraint system would be in high demand. For the fifth time in a row, we have finished with an annual growth of 40% on average; for 2021, we will show a growth of about 55%. We have a 5000 sq m plant, which will soon be too small, so we're looking to build another one. We have excellent employees and a desire to succeed together. Our success is based on listening and our sincere desire to bring the best technologies to our customers and then evolve our solutions to meet changing needs.

What role do you place in innovation?
It is one of our values, as is pleasure and teamwork. We try to continually renew ourselves, to reinvent what we do and our way of being; the ways we interact with our partners. Our customers are actively involved in the development of our new products, and we establish long-term partnerships with them.

STAND E53